Team Member Spotlight – Brenda Long – Rising Star to Store Manager
It brightens my day to hear about Sport Clips success stories! Brenda started her journey at Sport Clips right out of cosmetology school, and eight years later she is managing a soon to be million-dollar store. I could reiterate her story, but she tells it so well! Check out her letter, below :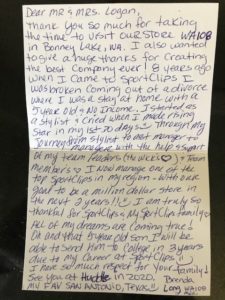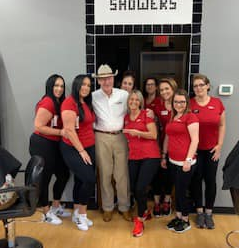 "Dear Mr. & Mrs. Logan,
Thank you so much for taking the time to visit our store. I want to give a huge thanks for creating the best company ever! When I came to Sport Clips, I was broken, coming out of a divorce, a stay at home mom to a 5-year-old boy and with no income. I started as a stylist and cried when I achieved rising star level in my first 30 days! My manager, team members and store owners were supportive of my growth from stylist to assistant manager and now store manager. I now manage one of the top Sport Clips in my region and we have big goals over the next two years! I am so thankful for Spot Clips and my Sport Clips family. All my dreams are coming true! I will be able to send that five-year-old boy to college in a few years, due to my career at Sport Clips. I have so much respect for you and your family! See you at the Huddle in 2020!
Brenda Long, WA"
You can listen to her story here: https://www.sportclips.com/about-us/podcast/podcast-episode-survive-and-advance-brenda-long
Regardless of your profession or brand that you work with, make sure you surround yourself with people who support your goals and make you feel good! We spend more time with our co-workers than with our families. Figure out what is important to you. What drives you. What you aspire to be like. And surround yourself with people that brings those things to your life.
I have to say that my team makes me laugh every day. When we have crazy busy weeks, we support one another and we challenge each other, daily!