Team Member Spotlight – Megan Cook #GotHeart
When you join the Sport Clips system – whether you are a Stylist, a Manager, a Coach, a Team Leader or a Support Team Member – you commit to following the values of the brand and embracing the company culture. That means committing to doing what's right, doing your best, and treating others the way they want to be treated.
Megan Cook, Area Manager in Westminster, MD, followed through on all three of those values not long ago when she stopped at a convenience store on her way from her Sport Clips store.
Megan shares the story with us:
I was on my way home from Sport Clips around 11:00 p.m. and I stopped off at a convenience store and while I was inside, I noticed there was only one employee working in the store. This poor man had six people waiting at the register and was working to complete the orders of four other customers behind the food counter. He was obviously overwhelmed.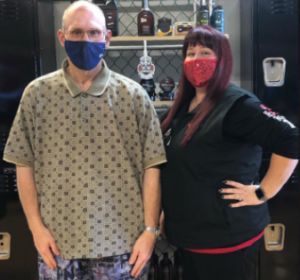 A customer in the store, who was tired of waiting, screamed at him and told him to hurry up with his order. I felt awful for this man. By the time he got to my order, I was the only person left in the store.
While he checked me out, I apologized to him for how badly the other customer treated him. The man broke down. He began to cry and told me how horrible his day had been. He then shared that he recently lost both of his parents and due to a mix-up in the schedule he was working alone from 11:00 p.m. to 7:00 a.m. He also mentioned he was written up the day before because his hair was too long and "untamed." He said he didn't know where to go to get a haircut or how to take care of it because his father always took him to a local barber – a barber who took care of his father's hair for 50 years and his hair for the last 30 years. I asked why he couldn't go back to the barber and he explained the barber had also passed away.
This man was struggling. I gave him an ear to listen. He expressed concerns about getting his hair cut somewhere new and want to make sure it was COVID-safe. I told him I worked for Sport Clips and explained our Clean Certified program and invited him to come visit me for a haircut.
When the man showed up at my store, he requested me. I patiently walked him through a thorough consultation and he shared he was concerned about cutting his hair and decided he wanted to keep it long. Instead of cutting it, he asked if I would French braid his hair. Of course, I said yes.
I gave this man a Double MVP, then put product in his hair to help him manage it and braided it so it would stay for a least a week. He was thrilled. We chatted during his service and he explained he lives alone now that his parents are gone and he has no one to talk to and that he had almost given up on there being any decent human beings left in the world. He thanked me a million times and said he would be back once a week for the rest of his life to get the MVP and a French braid.
As he walked out he thanked me again for providing him with excellent service and said that during the 25 minutes he spent with me he felt like all the bad in the world had disappeared.
This simple act of living out our values beyond the store and through the interactions you have with others, can make a profound difference in someone's life. And guess what? The man – Spencer – came back to see Megan the following week for another MVP and a fresh French braid. A service he now calls his "weekly MVP style." There is no doubt this man will certainly be a Client for life after being treated with kindness and respect by Megan. It's important to remember that with every Client who sits in your chair.