Stephanie Oxley – Manager at Sport Clips Haircuts of Bangor
Hello friends!
We are all feeling a little disconnected these days, and while sheltering in place has been challenging, many of us are doing our best to turn these challenges into something positive. Over the next few weeks, we'll be sharing stories from Sport Clips Team Members around the country as we all navigate this unprecedented time in our lives.
First up is Stephanie Oxley, Manager at Sport Clips Haircuts of Bangor. Her positive engagement and #GotHeart attitude on our Sport Clips Jobs Facebook page caught our attention, so of course we me wanted to learn more about her. Stephanie shares how she is remaining #SportClipsStrong!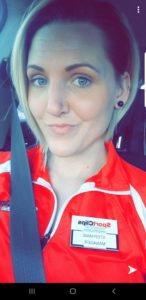 Q: What does social distancing look like for you?
A: Social distancing for myself involves massive amounts of family time. I am married to a wonderful man and we have two daughters (Taylor-10 and Cierra-13).  We also, have a six-month-old Labrador Retriever, and a five-year-old house cat. My husband and I were both laid off and are spending our days homeschooling, watching Netflix, painting doors to our newly built home, and enjoying our fur babies. This has given us the chance to slow down and reconnect.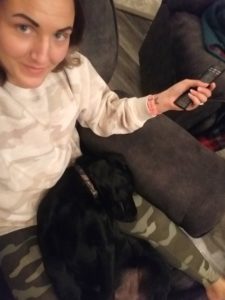 (Steph with her pup named Bocephus)
Q: If you could come back in a second life, who would you be and why?
A: If it is an option, I would just like to stay youthful in this life. It is pretty darn great!
Q: What do you most miss not being able to do during this crisis?
A: The thing I miss most is not interacting with my Team in person and interacting with Clients and cutting hair. I miss helping people feel good about themselves when they leave my chair and I miss the day to day conversations with these people. Working for Sport Clips is not just a job, it is a lifestyle and a family. I miss the small talk with my Team and the advice that I can provide to help them get through anything. I can still achieve this over the phone, but it is not the same. I miss my Sport Clips family!
Q: What or who are you leveraging or using to keep you motivated/#SportClipsStrong?
A: I remain an active participant in the Sport Clips community. Remaining in contact with my Team helps me stay motivated!
Q: How are you staying engaged with the Stylist community and/or your Team?
A: I follow many Sport Clips pages, including our local Sport Clips stores, Sport Clips Jobs, etc. I remain in contact with my Team to ensure each of them have what they need to get through this pandemic we are faced with. I provide resources, contacts, suggestions for filing for unemployment. My Team knows I am there for them and would do anything to see each of them come through this successfully and on top. I offer encouragement always!