Erin Smith – Area Coach & Former Artistic Team Member
We are excited to introduce you to  Erin Smith Sport Clips Haircuts Area Coach (Educator) and former Artistic Team Member. As Area Coach, she is based in upstate New York, covering the Northeast territory where she provides Team Members (Hair Stylists) with education and operational support. Prior to her Area Coach role Erin spent five years in the spotlight as one of the first Artistic Team Members.  She is spunky, sharp, and so much fun to be around.  She tells us a little about her experience and herself below: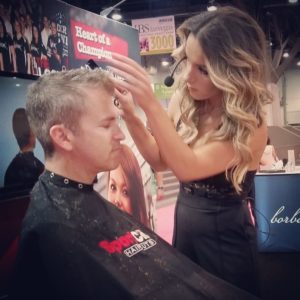 Q: Why did you want to be on the Artistic Team? How long were you on the Team?
 A:  I was part of the Artistic Team from 2014 until 2019.
I originally wanted to be on the Artistic Team for the opportunity. I believed it would make me a better educator and improve my presentation skills. I saw it as a chance to learn new techniques and work with leaders in the industry. I was excited about spreading my love and knowledge of Sport Clips.
Being on the Artistic Team took me out of my comfort zone, but it far exceeded anything I had hoped for. I will be forever grateful for the experiences I had, the lessons I learned and the relationships that were built while being part of the Sport Clips Artistic Team.
Q: What is your favorite haircutting tool and why?
A: I really enjoy using my shears. I credit the education that I received while on the Artistic Team for my newfound love of my shears. I always knew I could use my shears to remove length and add a little texture, but through scissor dexterity and scissor over comb exercises, I realized shear work adds customization to my cuts. I have always enjoyed the efficiency of using clippers, but by using my shears I can get as close as the clippers get while being able to disguise any of the imperfections of my Client's head. This allows me to create looks that are perfectly fit for my Client, and not easily duplicated at home in the bathroom mirror.
Q: Favorite pastime/hobby outside of work?
A: Besides spending time with family and friends, I enjoy remodeling and interior decorating.
Q: Favorite Sport Clips tradition/event?
A: My favorite Sport Clips event is the National Huddle. I enjoy being together with thousands of people who share the same passion for Sport Clips.  I love celebrating the "wins" that we have had as a company and hearing from the leaders that make Sport Clips the company that it is. At the end of every National Huddle, I may initially feel mentally exhausted, but it always leaves me motivated, inspired, and energized.
Keep tabs on Erin on Instagram at @closecutter.
To learn more about SportClips Jobs visit our home page: SportClipsJobs.com.