Franchise Rockstars of 2020
GEORGETOWN, Texas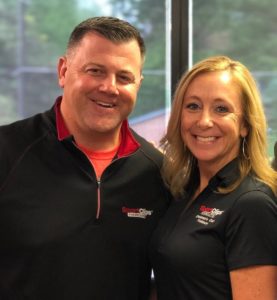 Sport Clips Haircuts franchisees Dan and Angie Roberts were named Franchise Rock Stars for 2020 by Franchise Business Review, an independent market research firm that benchmarks franchisee satisfaction.
Each year, Franchise Business Review honors franchise owners who set exceptional examples of achieving success within the franchise model. The husband and wife team were selected from more than 28,000 franchisees, representing more than 300 brands that participated in Franchise Business Review's research in the past 18 months.
The Franchise Rock Stars recognized were nominated by their franchise brand leadership in one of eight categories as franchisees who set admirable examples when it comes to leadership, business acumen, financial and professional success, and contributing to their community. The Roberts were recognized as Rock Stars in the multi-unit owner category.
"There are so many success stories out there and thousands of inspiring franchise owners who are living their dreams of business ownership that it was incredibly difficult to narrow down the list," said Eric Stites, CEO of Franchise Business Review. "In the end, we chose individuals who are exceptional examples of achieving success through the franchise model and exemplify a strong work ethic and a real commitment to their business and community. We are thrilled to recognize these individuals as Franchise Rock Stars."
Over the last 13 years, the Roberts have built their Sport Clips business to include nine locations in Nebraska and Iowa, with a tenth store coming soon. The couple are passionate about creating "careers" for team members, not just "jobs" and focus on ensuring their team members love where they work. In 2019, they were named "Team Leaders of the Year," and they received the Logan Trophy, the system's highest award in 2017 and again in 2020.
"Dan and Angie are leaders in the Sport Clips system, both in how they operate their business and in the way they follow the mission and values of our brand," said Edward Logan, president and CEO of Sport Clips. "They have built a strong, successful team across all of their stores and set a great example for other team leaders to follow. I always enjoy every opportunity to interact with and learn from Dan and Angie."
Visit FranchiseBusinessReview.com to see the full list of 2020 Rock Star Franchise Owners.