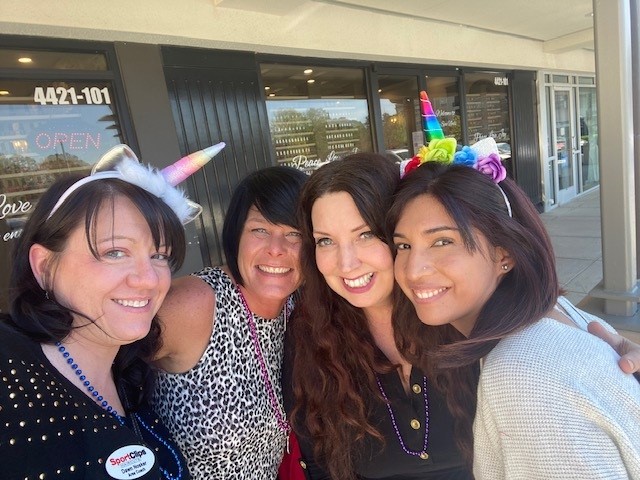 Fresh out of beauty school, Dawn Nosker joined the workforce in a "numbers-oriented salon" with strict rules where she felt no connection to the company or management. She was a talented stylist, but a lack of flexibility in her schedule wore her down and ultimately led her to leave her job after five years. Dawn says she could no longer operate in a company that wasn't looking out for her best interest, rather only seemed interested in the bottom line.
When Dawn decided to take on work outside her chosen profession as a stylist, she was barely making ends meet. She recalls she had just enough income to pay bills and nothing more. Out of the blue a friend called her to return to her stylist roots through an opportunity to work at a Sport Clips Haircuts location in Mooresville, NC. The friend assured her that Sport Clips was different from her previous experience and the culture would be a good fit for her.
Encouraged, Dawn went to the nearby Sport Clips at her friend's recommendation but had reservations after working for a previous salon employer. While applying, Dawn watched the Sport Clips stylists at work and noticed the dramatic difference from her earlier work setting in the way they interacted with one another. She says these stylists were happy and smiling, despite the store being abuzz with activity as the busiest store in the state. They were comfortable in their sneakers and athletic-style attire, chatting with their clients as they cut their hair. During the interview, the store manager, Sue Harris, took the time to visit with Dawn about her history in the styling industry. Sue took the time to address her concerns about returning to the cutting floor, and Dawn was soon hired to work three shifts a week while continuing to work her other job.
"In a week or two I was in love with the place," Dawn shares, "I fell in love with all of it." Over the next couple of months Dawn slowly began increasing her number of shifts until she became a full-time stylist with Sport Clips. She looked forward to coming into work and seeing all of the clients and co-workers she built relationships with overtime.
Two years into her time as a stylist Dawn found out she was expecting a child. She was nervous about juggling her time between parenting and having a career. "I didn't want to give any of it up," Dawn says. Sport Clips promoted Dawn to the assistant manager position and guaranteed a day of the week Dawn could be off to attend doctor's appointments and be there for her family. "That made me feel really good. This was the first time in my work as a stylist I'd been guaranteed a day off," Dawn explained. She was able to take care of her child and earn an income that suited her needs.
While Dawn says she appreciated that being a manager allowed her to get to know her team members on a one-on-one basis, she found her true passion in becoming a Sport Clips coach…a position that offers the opportunity to be in multiple stores. Making the career leap to becoming a coach enabled Dawn to pass on her skills and passion for Sport Clips' mission and its customers to an even broader audience. "When I became a full-time coach, I found exactly what I was meant to do because I get to spend my time helping other people really enjoy what they do," Dawn says. The position created opportunity for her to help others improve their highly technical men's and boys' haircutting and styling skills and to reach their full potential in their profession and beyond.
Dawn says she plans on being at Sport Clips for the rest of her career, primarily because of the people with whom she interacts and works. She appreciates a culture that encourages team members to improve themselves and others, operating more as a "family" that helps one another reach their goals. The connection she shares with other Sport Clips team members extends past haircutting and the professional salon setting, "If one of us is having a less than perfect day, we are there for each other," Dawn says. She says this was especially true when she felt the love and support of the Sport Clips community when her mother passed in 2014. She shares that her "Sport Clips family" sent 14 floral arrangements and that, "There is so much love and heartfelt compassion for people here. I just couldn't see myself working anywhere else."