Our Story
About Sport Clips
In the early 1990s, Sport Clips founder Gordon Logan recognized the huge potential, and relative lack of competition, in the men's and boys' haircut market. Since the first location opened in Austin, Texas, in 1993, the Sport Clips mission has remained steady – to provide a "Championship haircut experience for men and boys in an exciting sports-themed environment". Today, Sport Clips is proud to be the only national hair care franchise with locations in all 50 states in the U.S., approaching 1900 locations in the U.S. and Canada. When asked if he knew Sport Clips would be one of the fastest-growing franchise systems, Gordon will tell you, "Yes, I just didn't think it would take this long!"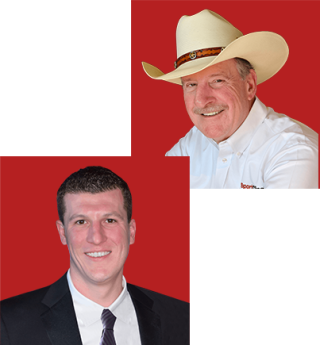 Learn more
1993

First location opened in Austin, Texas

1995

Sport Clips started franchising the concept and opened its first franchised location in Houston, Texas.

2012

Sport Clips celebrated its 1000th store opening in Springboro, OH.

2013

Sport Clips expanded into Canada with its first store in Burlington, Ontario.

2016

Sport Clips celebrated the opening of its 1,500th location, which is located in Gordon Logan's hometown of Sumter, SC.

2018

Sport Clips celebrated its 25th Anniversary!

2020

Sport Clips President Edward Logan was named CEO of the company, succeeding founder Gordon Logan in the role, who was named chairman of the board.
Sport Clips Values
Sport Clips' Values form the foundation upon which our reputation and success are built. They reflect the core beliefs for us to succeed. Our Values communicate what is important and what others can expect from us.
Living our Values is more than memorizing the words. It is demonstrating the Values that make up the Mission Statement, Heart of a Champion and the Three Key Questions, day-in and day-out, with everything we do and with everyone with whom we come in contact.
Our Mission Statement forms the foundation upon which our reputation and success are built. It reflects the core values required for us to provide the unique Sport Clips experience. Our Mission Statement tells everyone inside and outside of Sport Clips what is important and what they can expect from us.
"To create a Championship Haircut Experience for men and boys in an exciting sports environment."
Coach Lou Holtz, former head coach of two national champion football teams, sets forth three rules for life that are applicable to the Sport Clips Team as they are to his football teams. These three rules are the guiding principles or values for all that we do at Sport Clips. We expect all of our Team Members to live by the following values:
Do What's Right
Do Your Best
Treat Others the Way They Want to be Treated
There are three key questions we expect to be able to ask each other and have each answered in the affirmative.
Can I trust you?
Are you committed to excellence?
Do you care about me?
Haircuts with heart
At Sport Clips Haircuts, we believe in giving back to the communities in which we live and work. Through our Haircuts with Heart programs, Sport Clips' Team Members embrace charitable endeavors that make a difference in the lives of our veterans, families and children. The spirit of giving is demonstrated by the generous donation of time and contributions and is representative of the Sport Clips values.
Eric Gozur-Wayne McGlone Memorial Relief Fund
Helping each other is the most important benefit of being part of a team. Caring is at the core of the Sport Clips values system and the Sport Clips Eric Gozur-Wayne McGlone Memorial Relief Fund is one of the many ways this is demonstrated. The Gozur-McGlone Relief Fund has awarded more than $3 million in grants to Sport Clips Team Members who suffer unforeseen tragedies such as illness, accidents, tornadoes, fires, floods, and more.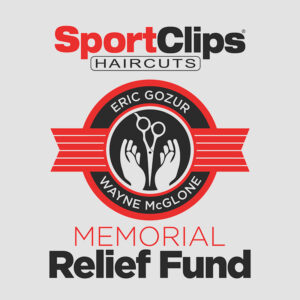 Help A Hero Scholarships
The VFW's "Sport Clips' Help A Hero Scholarship" program has contributed almost $8 million to the VFW since 2013, with its primary focus on funding scholarships for service members and veterans working toward finishing their education and taking the next steps in their post-military careers. By providing scholarships for use at post-secondary schools, including trade schools, our goal is to make the transition from a military career to the civilian workforce a little easier. From degrees in law, medicine, business, education, engineering and many more, these men and women share a common desire to make a difference as civilians.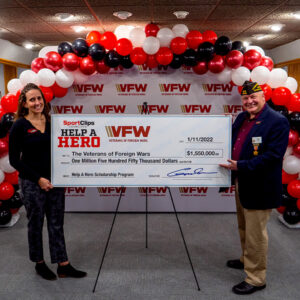 St. Baldrick's Foundation
In 2016, Sport Clips Haircuts proudly signed on as St. Baldrick's Foundation's first national sponsor, committing to give more than $1 million dollars in support of childhood cancer research over the next three years. Since then Sport Clips joined the fight against cancer in local communities by assisting in raising funds for childhood cancer research while also supporting and hosting local shave events. In 2019, the brand agreed to another three-year, $1 million commitment to St. Baldrick's to continue to support their cancer research funding. Learn more about St. Baldrick's by visiting their website, and join us in supporting their important mission! Whether you want to host a St. Baldrick's signature head-shaving event in your community, or "brave the shave" yourself, there are many ways to get involved!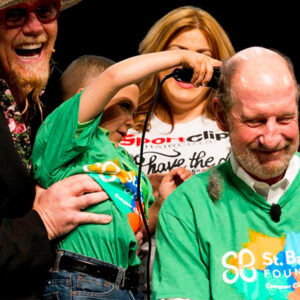 Dream Flights Foundation
Sport Clips is the primary sponsor for Dream Flights Foundation, a non-profit organization established and dedicated to honoring seniors and United States military veterans. Through donations, and with its all-volunteer group, including the pilots who provide the flights, the foundation provides once-in-a-lifetime "Dream Flights" to veterans, many of whom served during WWII, in a Boeing Stearman biplane, the same aircraft used to train many military aviators in the late thirties and early forties. AADF hosts between 800 to 1,000 flights each year, covering the majority of the United States.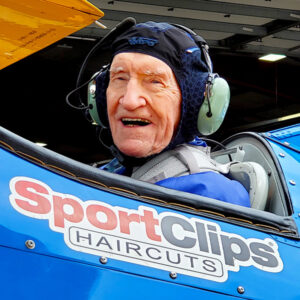 American Red Cross
Since September 2015, Sport Clips has supported the American Red Cross Blood Services through its annual Saving Lives Never Looked So Good! Campaign. During September, presenting donors receive a coupon for a free haircut that can be redeemed at participating Sport Clips locations. It's our way of saying thank you to the hundreds of thousands of blood and platelet donors around the country. Through our continued commitment to the Red Cross, Sport Clips' Team Members and clients understand the need for blood and platelets never goes away, and is often drastically increased when disasters strike. For more information on lifesaving blood donations please consider Giving the Gift of Life.