Our Story
About Sport Clips
In the early 1990s, Sport Clips founder Gordon Logan recognized the huge potential, and relative lack of competition, in the men's and boys' haircut market. Since the first location opened in Austin, Texas, in 1993, the Sport Clips mission has remained steady – to provide a "Championship haircut experience for men and boys in an exciting sports-themed environment". Today, Sport Clips is proud to be the only national hair care franchise with locations in all 50 states in the U.S., approaching 1900 locations in the U.S. and Canada. When asked if he knew Sport Clips would be one of the fastest-growing franchise systems, Gordon will tell you, "Yes, I just didn't think it would take this long!"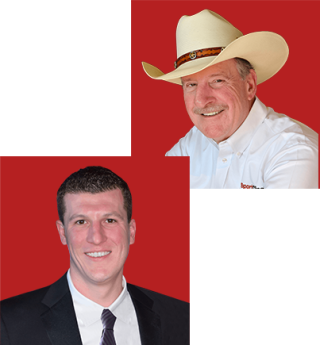 Learn more
1993

First location opened in Austin, Texas

1995

Sport Clips started franchising the concept and opened its first franchised location in Houston, Texas.

2012

Sport Clips celebrated its 1000th store opening in Springboro, OH.

2013

Sport Clips expanded into Canada with its first store in Burlington, Ontario.

2016

Sport Clips celebrated the opening of its 1,500th location, which is located in Gordon Logan's hometown of Sumter, SC.

2018

Sport Clips celebrated its 25th Anniversary!

2020

Sport Clips President Edward Logan was named CEO of the company, succeeding founder Gordon Logan in the role, who was named chairman of the board.
Sport Clips Values
Sport Clips' Values form the foundation upon which our reputation and success are built. They reflect the core beliefs for us to succeed. Our Values communicate what is important and what others can expect from us.
Living our Values is more than memorizing the words. It is demonstrating the Values that make up the Mission Statement, Heart of a Champion and the Three Key Questions, day-in and day-out, with everything we do and with everyone with whom we come in contact.
Our Mission Statement forms the foundation upon which our reputation and success are built. It reflects the core values required for us to provide the unique Sport Clips experience. Our Mission Statement tells everyone inside and outside of Sport Clips what is important and what they can expect from us.
"To create a Championship Haircut Experience for men and boys in an exciting sports environment."
Coach Lou Holtz, former head coach of two national champion football teams, sets forth three rules for life that are applicable to the Sport Clips Team as they are to his football teams. These three rules are the guiding principles or values for all that we do at Sport Clips. We expect all of our Team Members to live by the following values:
Do What's Right
Do Your Best
Treat Others the Way They Want to be Treated
There are three key questions we expect to be able to ask each other and have each answered in the affirmative.
Can I trust you?
Are you committed to excellence?
Do you care about me?
Haircuts with heart
At Sport Clips Haircuts, we believe in giving back to the communities in which we live and work. Through our Haircuts with Heart programs, Sport Clips' Team Members embrace charitable endeavors that make a difference in the lives of our veterans, families and children. The spirit of giving is demonstrated by the generous donation of time and contributions and is representative of the Sport Clips values.